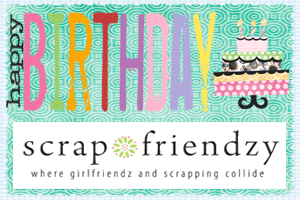 As you may remember, I joined the team at
Scrap-Friendzy
on September 1st. Well, October marks their 2 year birthday and we are ready to celebrate in a BIG way! Please make your plans now to join us for a 10-day Blog Hop Extravaganza. That's right....10 days of blog hopping and 10 awesome challenges from our design team that are sure to inspire your creativity! And wait...there's more! Everytime you visit and leave comment on the DT's blog, your name gets entered for a prize.
We would love to have you join us and become one of our Friendz at SF. Why not head over there now and sign up! You will meet some fab ladies, be inspired by a gallery full of amazing yumminess, and have a blast. I have a special RAK that I want to offer. If you go sign up for SF (or if you are already a member but make yourself active), I will enter your name into a drawing and pull out a winner on October 1st. The winner will receive the Basic Grey Eskimo Kisses paper pack!
Hope to see you at SF very soon!